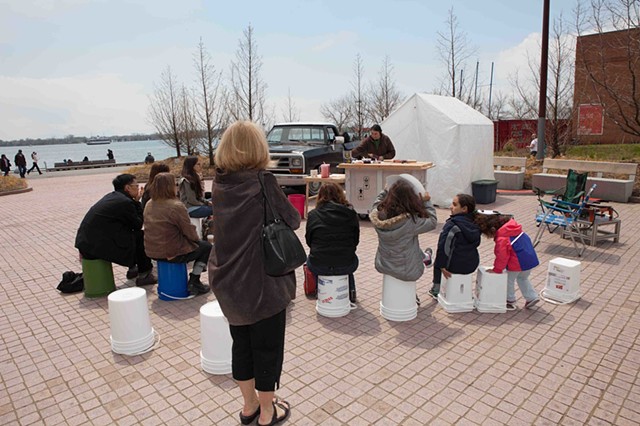 Shore Lunch - Lake Ontario
varied and including wooden food cart, canvas wall tent, food and drink, wood framed kiosk, canvas quilts and bags.
varied
2014
Shore Lunch is an ongoing multi-site mobile art venue that takes the form of a make-shift camp kitchen. Complete with propane burners, tables, shelter and bucket seating, this performance invites people to share food and conversation. Shore Lunch has engaged the public on the shores of the Rideau Canal in Ottawa, next to Lake Ontario in Toronto, on the island of Montreal and also hammered down tent pegs in Clarkson, Ontario. Inspired by stories of my Mother's fishing skills and her love for pulling up on an island and frying up fish over a fire, I created this project to think more about the layers of history, the interaction of waterfront leisure areas and industrial hubs around the Great Lakes. This project also seeks to create spaces of sustenance.
The original commission for Fresh Ground at Harbourfront, Toronto had three iterations in the summer of 2014:
Form 1
May 18 and 19 – Leaving Marks involved using carved rolling pins to create print blocks with berry pigment. In the spirit of kitchen conversations, the action of using the rolling pin performance entered the realm of visiting as I told stories while "cooking" up prints. I printed directly onto postcard sized cards with four rolling print blocks each a different element and metaphor related to shoreline development. I served the audience a pureed strawberry drink.
Form 2
June 20 evening event - Landing under Water considered the water and land aspects of the shore. During this evening event I presented two video works surface tension a video work that captures water surfaces at different sites around the Great Lakes and also the animated work titled from then on we lived on blueberry for about a week shows an ever changing and transforming landscape. The audience indulged in a blueberry juice and maple blueberry skaan with a wooden spoon multiple.
Form 3
June 30 and July 1- Listen to this the mobile camp kitchen will be the landmark for this performance collaboration with songs written for the past sustenance and food from this place. The performance included musical scores for berries, water, wild rice parching and fish frying by Melody McKiver and Lisa Myers. The audience were served a dish containing wild rice, blueberries and maple syrup.